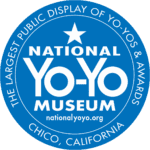 The National Yo-Yo Museum features the worlds largest public display of yo-yo, yo-yo memorabilia, and contest awards.
The National Yo-Yo Museum is open 7 days a week and is free to tour. Normal public hours are Monday through Saturday from 10am to 6pm, and 12pm to 5pm on Sundays. Guided visits are available to groups by special arrangement.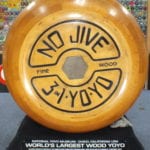 Our centerpiece is Big-Yo, the scaled up working version of the iconic No-Jive 3-in-1 from Tom Kuhn. At 256 pounds, Big-Yo made it into the 1982 Guinness Book of World Records claiming the title of 'Worlds Biggest Working Wooden Yo-Yo'. And yes, it does really work. You've heard of Paul Bunyan right? Actually, with the assistance of a large crane and a skilled operator, Big-Yo can successfully make its way up and down the string.